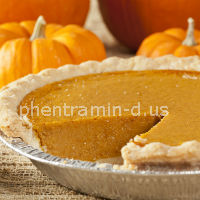 Does the smell of a pumpkin spice latte cause you to drool every time you pass your favorite café? Unfortunately, those and many other seasonal treats are packed with sugar, salt and calories and can be hard on a diet. However, when you make your own homemade pumpkin desserts you can take control over what's inside.
This way, you can use homemade pumpkin desserts to make sure you don't miss out on any favorite fall flavors. Surprisingly, many of these recipes are not at all difficult to make and can make a tremendous difference in calories. In fact, many recipes can slash the calories in their store-bought counterparts in half.
But, wait, why should you bother with homemade pumpkin desserts, especially if you are aiming to shed pounds? Well, pumpkin is a fabulous ingredient to add to your diet because it is high in fiber that helps fill you up and keep you full. Plus, it contains nutrients like vitamin A and antioxidants, and it is low in calories. When prepared the right way, you can enjoy pumpkin desserts guilt-free.
Consider the following homemade pumpkin desserts you can make at home for far more healthful and lower calorie enjoyment.
Delicious Homemade Pumpkin Desserts That Are Bette for Your Waistline 
Pumpkin spice latte
That's right, even the beloved pumpkin spice latte can be made at home to cut the calories. If you make a homemade version of this drink with real ingredients instead of sugary syrups, you'll cut the calories in half or more.
Combine skim, 1%, almond or cashew milk with pumpkin puree, cinnamon and a light pinch of ground ginger and ground nutmeg.
Whisk in a saucepan until warm and frothy.
Add to a double shot of espresso and lightly drizzle with pure maple syrup.
This is not only far lower in calories than the store-bought version, but it is actually good for you.
Pumpkin pie
The traditional dessert at many Thanksgiving tables doesn't need to bog down an already heavy dinner. Choose lighter versions of the traditional ingredients to hack down the calorie content of each slice of pie.
For instance, use cashew milk instead of cream and add more richness and flavor by upping the spices.
Replace white sugar with maple syrup (though leave the brown sugar in for its unique flavor unless you want to sub in some molasses).
Pumpkin smoothie
Yes, you can start your morning with a healthy smoothie that tastes just like a dessert.
Start with Greek yogurt and either milk or coconut water as you usually would.
Instead of adding a banana, toss in some pumpkin puree.
Sprinkle in some cinnamon and either pure maple syrup or raw honey and you will feel like you're enjoying a guilty treat. Instead, you'll be packing your body with nutrients, antioxidants and fiber!
Pumpkin spice latte truffles
Who says you can't enjoy the flavors of fall, including pumpkin spice, while eating a vegan diet? There are a ton of vegan recipes to choose from, and one of them is pumpkin spice latte truffles, according to Fit Mitten Kitchen.
Ingredients include pumpkin puree, pumpkin spice, plant-based protein powder, pure maple syrup, seed butter or nut butter, espresso powder, dairy-free chocolate, coconut oil, and coconut flour.
Each truffle contains 3 grams of protein, 2 grams of fiber, and 97 calories. And the best part is that these truffles are easy to prepare, as you can get them done in 20 minutes, including prep and cook time.
So Many Amazing Homemade Pumpkin Desserts! 
Now that you know about some of the best homemade pumpkin desserts that won't throw your entire weight loss journey off track, what are you waiting for? Prepare these tasty treats for yourself and your entire family in order to take in all of the incredible flavors and aromas that this beautiful season has to offer!
Want to make sure you don't overdo it with these yummy pumpkin treats? Give yourself a bit of a hand by choosing Phentramin-D throughout the holiday season.