Healthy Chili Recipes for Weight Loss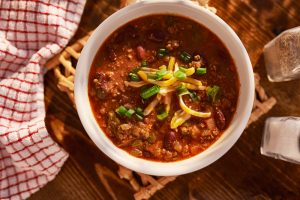 Who says you can't eat a hearty chili when you are trying to lose weight? Just check out the healthy chili recipes for weight loss below so that you can indulge in all of your favorite flavors even while you are following a diet.
Try These Healthy Chili Recipes
Meat-Free Chili
This is one of the healthy chili recipes that helps you get plenty of fiber and all of the nutritional benefits of plants in your chili, while ditching the meat that might be harmful to your health.
Start by chopping 5 cloves of garlic, a red onion, and 2 bell peppers. Sauté these over heat in a couple teaspoons of olive oil. Then rinse one can each of kidney beans, pinto beans, and black beans.
After the vegetables have sautéed for 5 minutes, add them into a pot with your beans, a cup of frozen corn, 28 ounces of crushed tomatoes, a cup of veggie broth, a tablespoon of chili powder, a teaspoon each of coriander, cumin, and unsweetened cocoa powder, ½ teaspoon each of salt and garlic powder, ¼ teaspoon of cayenne pepper, a few splashes of soy sauce, and black pepper to taste.
After bringing to a boil, simmer for 30 minutes. Enjoy while hot.
Eggplant Chili
A twist on a classic, this eggplant chili is a great choice for those looking for yummy, yet lighter healthy chili recipes.
Start by heating up a big pot over medium heat. Add in a cup of frozen corn and cook it until it has browned, which should take around 5 minutes. Then remove the corn and set it aside. Add a couple of tablespoons of olive oil to the pot, along with one large eggplant that has been cubed. Cook the eggplant until it's lightly browned and softened before seasoning with a bit of salt and adding a chopped onion and a minced jalapeno pepper. Cook that until the onions are translucent, roughly 10 minutes.
At this point, the eggplant should be browned as well, so you could add in two minced cloves of garlic, a tablespoon each of cumin and chili powder, and ½ teaspoon of cinnamon. Stir everything together before adding a 15-ounce can of diced tomatoes and 3.5 cups of water. Bring everything to a boil, and then reduce the heat to a simmer before adding in a can of black beans that have been drained and rinsed, as well as your corn. Add in the juice of one lime, ¼ cup of chopped cilantro, and salt and pepper to taste.
Simmer for another 5 minutes before adding your preferred toppings, such as corn chips or avocado. Serve hot.
Either of these healthy chili recipes will compliment a weight loss diet perfectly. Plus, chili powder contains capsicum for weight loss benefits that include increased thermogenesis.