Is the Impossible Burger Actually Good for You or Just Clever Marketing?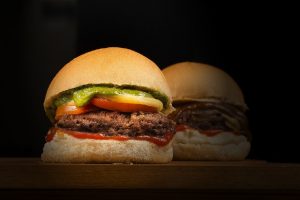 By now, you have undoubtedly heard about the Impossible Burger, which is making its way into a host of restaurants, including fast food chains. This plant-based burger is a great way to reduce your intake of animal protein. And, those who have tried it have had positive things to say about its flavor and texture.
But, is the Impossible Burger actually good for you, or is it just clever marketing?
Plant-Based Ingredients
According to Men's Health, the Impossible Burger is basically a soy burger patty, so it isn't much different from other plant-based burgers that you can purchase at your local grocery store, and that have been around for many years. What differentiates the Impossible Burger from the rest, however, is the flavor, as it most closely mimics the taste of beef, so it is a good option for vegans and non-vegans alike.
Concerned about the soy content in this burger? While some small studies in the past seemed to show a link between phytoestrogens and disrupted hormones, those findings were never substantiated in studies conducted in humans. So, no, you don't have to worry about consuming products that contain soy.
Some Nutrition Facts
An Impossible Burger patty will contain around 240 calories, along with 19 grams of protein. You will also get 9 grams of carbs, but 3 of those grams are coming from fiber, so that's a plus. Finally, there are 14 grams of fat in the patty, but it does not contain any trans fat, and the fats are from plant sources.
Overall, the nutritional content of the Impossible Burger looks good. It's a solid source of protein, it has a similar amount of calories as a beef patty, and you are getting healthy fats and fiber, too. Plus, it's also fortified with vitamins, such as:
Vitamin C
Vitamin E, as well as
B vitamins.
The Verdict: Yes, It's Good for You
The Impossible Burger is more than just marketing hype: it is a great way to enjoy a filling meal that is good for you. But, like anything else, it probably isn't something that you will eat every day. Whole food ingredients, such as whole grains, fruits, veggies, legumes, and beans, are always recommended to create a balanced, nutrient-packed diet, and foods like the Impossible Burger can be a nice addition to your diet whenever you want to replace meat in a recipe.