Holiday Season Diets May do More Harm than Good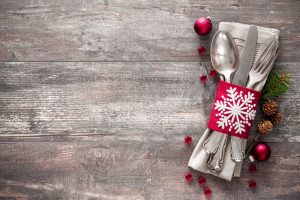 A lot of people choose to go on a diet when the holiday season rolls around, in an effort to avoid gaining weight from all of the tasty treats that are everywhere you turn. But, it turns out that holiday season diets might actually end up doing more harm than good, so they should be avoided. Continue reading to learn more so that you can take the right steps towards maintaining your weight during the holidays.
You May End Up Gaining Weight by Going on Holiday Season Diets
Dieting before the holidays might seem like a great idea at first, but the truth is that you probably won't gain all that much weight if you just continue eating the same way that you currently do. Of course, your current diet should be one that restricts calories and controls portions, while focusing on nutritious ingredients like whole grains, veggies, and fruits. If your diet isn't good for you to begin with, you'll definitely be more likely to gain weight if you end up consuming increasing amounts of high-calorie, high-fat foods during the holidays.
Plus, according to The Daily Meal, the act of dieting makes you more likely to gain weight, no matter what time of year you try. Researchers have found that individuals who choose to diet during the holidays are more likely to gain weight than those who don't bother with dieting in the first place.
You Might End Up Feeling Depressed or Anxious
Another reason to avoid holiday season diets is because they can take their toll on your mental and emotional health, as well as ruin your body image. Dieting basically removes you from the present moment, and restricts you from enjoying the season and all that it has to offer. Becoming too focused on food can take the fun out of things, and during this stressful time of year, the last thing that you need is to feel even more down. So, go ahead and indulge in some of your favorite foods, and just keep focusing on eating plenty of healthy foods and exercising regularly along the way.
You Might Be More Likely to Overeat or Binge Eat
Finally, dieters are more likely to overeat or binge eat, both of which can do more harm than good when you are trying to maintain your waistline. If you end up restricting yourself by following holiday season diets for a stretch of time before the holidays, once you see all of that yummy food at a holiday party or on your family's dinner table, you'll be more likely to overindulge. Stick to eating right all along the way so that you'll be able to more easily control your portion sizes even during the holidays.
It's clear to see that holiday season diets aren't the best idea after all. Focus on leading a healthy lifestyle every day, not just during certain times of year. Then, when the holidays roll around, you can take advantage of all of the delicious flavors of the season without feeling guilty and without worrying about weight gain.