The Best and Worst Tailgate Party Foods for Your Health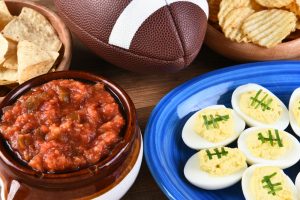 The season has already started, so it's time to dive right in to the best and worst tailgate party foods you can choose for your health. That way, the next time you head out to the game, you can enjoy some delicious favorites without having anyone mistake you for a linebacker.
The key to the best and worst tailgate party foods is in knowing what you should make to bring and what you should choose if it's offered to you from someone else. Chicken wings and pizza may be the standard, but it doesn't mean that they're the only choice you have until you get home.
To help you to have more good choices from among the best and worst tailgate party foods, be sure to bring the following appetizers with you:
• Deviled eggs – Huge in flavor, filling and easy to bring with you, all you need to do is use Greek yogurt instead of mayo, and you're sailing. You'll have a high-protein, low-carb, rich-tasting snack that is made of nothing more than half an egg, yogurt, onions, peppers and a dusting of paprika.
• Kebabs – Make skewers of chicken and skewers of veggies and you'll have some delicious kebabs that are low in calories but big on taste. The night before the game, grill chicken along with veggies like onions, mushrooms, bell peppers, jalapenos and zucchini, then cut them all up into chunks and stack them onto skewers for the next day.
• Turkey meatballs – Leave the ground beef at the butcher's counter and choose ground turkey instead. It can save you a ton of fat and calories per serving. Use your favorite meatball recipe and make a huge batch to bring with you to eat and share.
At the same time that you're dishing out the healthy and tasty options, try to avoid the following:
• Cheesy chili – This bowl of tasty ground beef and cheese may as well just be a bowl of calories and fat when your heart and waistline are concerned. A 2 cup serving will slug you with about 740 calories and 35 grams of fat. If that's all you're eating at the party and you eat only nutrient dense foods all day, this could be all right, but if you plan to have anything else at the party, your plans for a healthy day of weight management are toast.
• Spinach or artichoke dip – It may sound like a healthy option because of the spinach, but keep in mind that these dips are usually primarily cheesy, creamy fat bombs with very little veggie content. All it takes is ¼ cup to eat 160 calories and 16 grams of fat and that doesn't even include the chips you used to eat it with!
• Pulled pork sandwiches – Yes, they're delicious, but they're a fast path to weight and health disaster if you eat any more than a few bites.