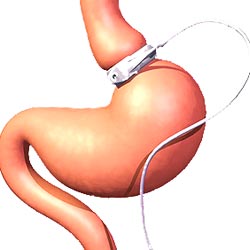 Many health professionals feel that laparoscopic gastric banding (otherwise known as LAP BAND surgery) is much safer than standard gastric bypass surgery, but there are still risks.
If you are going in for this type of surgery, these are things that your doctor should have discussed with you. If you are considering this, but have yet to get much further, think about the pros and cons of the procedure. Understanding what can go wrong can help you decide if this is something that is right for you or not.
A Little Bit of Background
To start, let's go over the basics of Lap Band surgery so you can get a better idea of what it involves, as well as the types of patients who can benefit most from it. According to Medical News Today:
Doctors typically recommend this procedure to patients who have a BMI of 30 or higher.
If you are obese, and you have health complications because of it, Lap Band surgery might be right for you.
If you have tried to lose weight in other ways, such as through dieting, exercising, and using a prescription diet pill, but those methods have not been effective, your doctor might recommend a weight loss procedure like Lap Band surgery.
This procedure is not usually recommended for those who have a psychiatric illness that isn't controlled, or those who have an alcohol or drug abuse problem. It also isn't for individuals who don't have a clear understanding of the pros and cons of the procedure, as well as the changes they need to make to their lifestyle to make this surgery a success.
What happens during this procedure?
The surgeon will place a band made of silicone around a part of your stomach in order to make your stomach smaller to help you consume less food. The band will go on the upper part of your stomach, a tube will be attached to it, and saline solution will be injected into the tube to inflate the band. This will achieve the optimal amount of constriction on the stomach, creating a pouch that will cause you to feel full with less food whenever you eat.
The Benefits of Lap Band Surgery
Now let's discuss some of the main benefits that patients can derive from undergoing this weight loss procedure:
Because this type of weight loss surgery does not affect the way your body digests food, the risk of malabsorption is reduced.
The band can be adjusted or removed.
If you're obese, you can boost the odds of achieving long-term weight loss.
Recovery is relatively quick.
In a lot of cases, patients experience an improved quality of life. Plus, the risk of various conditions, from high blood pressure to diabetes, may go down once the excess weight is lost.
The Risks of Lap Band Surgery
The Risk of Infection and Death from Laparoscopic Gastric Banding
Though death is a risk with laparoscopic gastric banding and traditional bypass surgery, the number of in-hospital deaths from this type of surgery is under one percent. There is always a risk with any type of surgery, and that may be where the one percent comes from. You cannot have invasive weight loss surgery without some type of risk of infection – which can lead to infection and death. However, that one percent can shrink even more with a qualified and practiced physician.
Laparoscopic Gastric Banding Adds a Foreign Object to the Body
The band used in laparoscopic gastric banding surgery is a foreign object in your body. No matter how safe the materials used, the body can reject this. The band can also cause erosion of the stomach tissues on the outside, leading to infection and pain. If this happens, the band may have to be removed, or at the very least readjusted after a period of healing. Erosion usually happens with band slippage, which is usually a problem when the band is adjusted, but not always.
The Potential Side Effects After Undergoing Laparoscopic Gastric Banding
Laparoscopic gastric banding can also cause what some health care professionals refer to as an unacceptably high rate of heartburn and vomiting. As you know, only a small section of the stomach can hold food, which means any food eaten is of vital importance to the patients health. If vomiting is not put under control (especially with a mostly liquid diet that comes right after surgery), the patient is going to suffer nutritionally and can become very sick.
Weigh the Pros and Cons of Laparoscopic Gastric Banding
The dangers of laparoscopic surgery may be very real, but the risks obesity are probably worse. Let your doctor decide if this is worth the risk for you, while you take the time to put in your thoughts and think about what you truly want for your life. There are other options for weight loss, but if you are thinking of any bariatric surgery, you may have already exhausted them. The best thing to do, for any patient, is to take time and be informed so the decision is not one of regret.