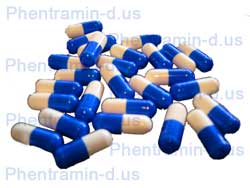 Phentermine and Phentramin-D are two options on the diet pill marketplace for those who are hoping to slim down and get healthier by losing excess weight. However, they are quite different from one another, even though they do share some similarities. Continue reading to see how Phentramin-D compares to Phentermine so you can decide which one is right for you.
What Is Phentermine?
Phentermine is an established prescription drug used for appetite suppression in those who are significantly overweight. It is made from phenyl-tertiary-butylamine, a sympathomimetic drug that has the ability to suppress the immune system's appetite centers. People actually lose weight on this medication and it is very effective.
Phentermine, however, is only designed for those who are obese, or who are overweight and have acquired health problems as a result of their weight. If you go to your doctor to tell him or her that you want to lose weight with a prescription diet pill like Phentermine, but you are only overweight, you might be denied.
What Is Phentramin-D? 
To look at how Phentramin-d compares to Phentermine, you need to first understand that this is not a prescription pill. Phentramin-D is a weight management supplement that you can buy over the counter. It is a great option for those who are overweight, and who have been denied a prescription diet pill by their doctor because they do not meet the qualifications for it.
Taking Phentramin-D is easy, and you can derive several benefits from its use. For example, you can feel more energized every day, and you can feel more focused. With more energy, you will be able to lead a more active lifestyle and exercise more regularly. That will lead to more calories and fat being burned through an increase in physical activity, and that can help you slim down. Also, when you're more focused on eating right, you won't be tempted by all of the junk food that used to take over your mind in the past. You can stick with following a low-calorie diet that actually helps you meet your weight loss goals.
What About Phentermine Side Effects? 
One thing to think about whenever you plan on taking a prescription diet pill is the fact that it might cause unwanted side effects.
According to WebMD, the side effects associated with Phentermine include:
Dry mouth
Trouble sleeping
Dizziness
Nausea
Vomiting
Constipation
Diarrhea
Irritability
High blood pressure
Irregular, fast, or pounding heartbeat
Changes in mood
Changes in sexual interest or ability
Uncontrolled muscle movements
If you are taking Phentermine and experience side effects, you should let your doctor know right away.
Know How Phentramin-D compares to Phentermine
As you can see, when looking at how Phentramin-D compares to Phentermine, both of these diet pills provide their own set of benefits that can help you on your weight loss journey, but they are also very different from one another. Talk to your doctor to find out which one is best for you.
duct: the science that shows the product actually works. If phentramin-d were compared side by side in a study with phentermine, it would likely show that the two are very similar in their mechanisms of action and in their ability to help one lose weight. It is these side by side comparisons that help the buying public to recognize that phentramin-d is seriously good at weight loss and is quite similar in action and efficacy of phentermine but without the potential for dangerous side-effects and the need for a doctor's prescription.
Phentermine and phentramin-d are both psychoactive sympathomimetic medications that help an individual lose weight. Phentramin-d is markedly cheaper and doesn't require a prescription. Phentramin-d acts on both the brain and body to help you feel more energized and to block appetite, very similar to phentermine. Unlike Phentermine that can only be taken over a short-period (a few weeks), Phentramin-d is safe and effective for long-term use.