Is There a Best Time to Workout During the Day?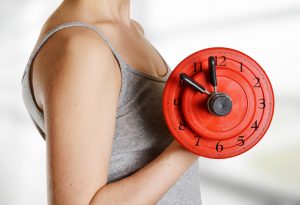 Have you ever wondered if there is a best time to exercise during the day, and if you are taking advantage of it with your current workout schedule? Check out the information below to learn more about the effects of working out at different times of the day.
Afternoon Workouts Are the Best
According to researchers, most people have the most flexibility and strength during late afternoon hours. On top of that, your body's perception of exertion, or how difficult your workout is perceived to be, is also at its lowest during this time of the day. So when you exercise in the late afternoon, it might not feel as hard, and your body might be performing at its peak.
Circadian Rhythm and Workout Rhythm
It is believed that your circadian rhythm might have something to do with the fact that your body enjoys working out in the late afternoon. Your body temperature rises a bit during the day and will be at its highest during the late afternoon, and that could help you feel even more ready to tackle your workout.
Eating vs. Fasting
Here's another interesting bit of advice from experts: don't bother fasting before your morning workout. Individuals who fasted or ate before their cardio routines all lost the same amount of weight in the end. So if you think that working out intensely in the morning, before you have had your breakfast, will end up helping you burn more fat, think again. Instead, you could eat breakfast and lunch, work out in the late afternoon, and still get great results.
Listening to Your Body
According to experts, exercise time is really up to you. For some people, exercising in the morning isn't the best idea because their bodies are far too stiff, while other people shouldn't work out later in the day because the boost in their energy level could end up disrupting their sleep cycle. So even though there are suggestions regarding when your body might perform at its best, it is important to remember that every body is different, so listening to your body is the key to your success and your ability to stick with your schedule.
Ultimately, getting exercise time in at least several times a week is important to your health, and it is an integral component to managing your weight. Whether you prefer working out in the morning, in the afternoon, or even at night, your body will reap the benefits of being physically active.