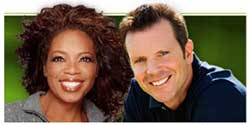 The best online diet truly depends upon what you are looking for in a diet and what kind of support you need to reach your goals. Different online diets offer different approaches to weight loss including diet plans, weight loss programs, meals, forums, online communities and supplements. Let's take a look at the various types of sites and what makes for the best online diet.
Why Oprah's Best Life Challenge was One of the Best Online Diets
Oprah's Best Life Challenge, with personal trainer Bob Green, was one of the best comprehensive online diets.
There are several "complete" online diet sites out there. Such sites were the Duke Diet and Fitness Center and Oprah's Best Life Challenge website. Both offer information on recipes, ideal weight determinations, ways to track your diet progress and tons of weight loss diet information. Oprah's site had a great deal of free information, including recipes and exercise information, personalized to you. Duke's site cost $5 per week to get access to their information and forum and was somewhat confusing for you to navigate. In this type of site, Oprah's site would be superior. The South Beach diet also offers plenty of great information and recipes, including pictures.
Other Options That Have Been Around a While
If you're looking for a site that simply provides the meals for you, Nutrasystem is one of the best online diets, along with the Chef's diet and the ediet.com program. They provide delivered meals to you that you eat in place of the regular meals you'd eat at home. Some offer snacks and desserts as well. Which one is the best? It depends on your taste and which foods you like the best. You'd have to taste the different programs and see what the nutrient content is of the food in order to determine which the best program is for you.
Best Online Diets with a Focus on Snacking
If you are looking for an online diet that includes snack foods, such as shakes a granola-like bar or a cookie to help you lose weight, you'd have to think of palatability and the nutritional content of the food provided by the website. This takes a bit of research, and you may need to taste some of the food by buying small quantities of it before deciding what you can eat and what is just unpalatable. If you don't like it, you won't eat it. Some of these snack foods are highly expensive. Some cookie sites are in the range of $300 per one month supply of cookies. And you still have to eat one regular meal per day. Dr. Siegal's Weight Loss Cookie site at least sells you the cookies at a week at a time for $59 but it allows you to see if it will work for you at a relatively inexpensive cost.
Make Sure the Features are Worth It
Sites that sell diet pills and weight loss supplements can be very confusing. Sometimes the ingredients of their products aren't listed very clearly and the information provided by the website is just hype and without any true information as to what the supplement ingredients are supposed to do. Herbal supplements often contain a dozen or more ingredients with no comment as to why so many ingredients are needed and how they are supposed to help you lose weight. Look for scientific research or at least an explanation of how the weight loss pill actually works before getting so far into getting the supplement and trying it. There are good supplements out there and you will find them by looking for positive reviews associated with them and scientific evidence showing that their ingredients work.
What About ShareFit Among the Best Online Diets?
ShareFit is an increasingly popular website for the best online diets.  For one thing, it's completely free to all users.  For another, it doesn't just offer one type of weight loss or eating strategy.  Instead, it provides a wide range of pre-created options depending on a user's goals, eating restrictions and preferences, and other factors.  These can each be customized to ensure that they are just what you want to follow over the long term.
Aside from the outline for eating strategies, ShareFit goes beyond the best online diets and also includes workout information, exercise videos, a nutrition log, workout log, supportive and friendly weight loss forum, and a massive database of articles that is updated weekly. Moreover, with every share made on the site, a donation is made to a wellness charity.  If your own personal motivation wasn't enough to keep up with your weight loss strategy, knowing that you're accumulating charitable donations can do the trick.