What the Location of Fat on Your Body Tells You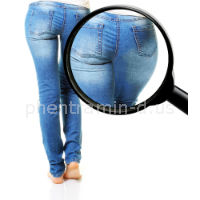 The location of fat on your body may seem frustrating to you at times, but it could be trying to tell you something. In most cases, the added weight isn't really anything more than a part of you that you just don't like very much. However, sometimes fat stored on the body is an indication of something more.
A growing body of scientific research has shown that the location of fat on your body can occasionally point to other issues. For example, pockets of fat on some parts of the body are linked with post-menopausal memory loss. Others have been connected with restless leg syndrome. Where the fat storage is occurring on your body can be related to other functions that may or may not be leading to other symptoms.
The following are some points you should know about the location of fat stored on your body.
Your waistline is an important risk indicator – If you have an apple-shaped figure, where you carry most of your excess weight around your middle, then your chances of diabetes or heart attack are higher than your slimmer-waist counterparts. Having more weight around the belly also increases the chances of restless leg syndrome which can impact your sleep quality. To slim your waistline, eat healthful, portion-controlled meals, reduce stress, get a good night of sleep, do cardio workouts most days and strengthen ab muscles on remaining days.
Love your backside – if you carry your weight on your buttocks, hips and thighs, you may actually have an added layer of protection against diabetes and heart disease. Moreover, this position of fat on your body could also encourage beneficial hormone release, reducing the instance of inflammation. Still, carrying too much fat anywhere on your body isn't good for you so make sure you're eating right, getting lots of cardio and strength training with leg curls, squats, leg presses and calf raises.
Think twice about wanting a big bust – as much as many women would love to have large breasts, it may not actually be the best shape for your health. Studies are showing that women who have a D cup or larger when they are 20 years old are around three times more likely to develop diabetes later in their lifetimes.
Give yourself an advantage in trimming down your whole body and becoming more fit with the appetite suppressants, energy boosting and fat burning in Phentramin-d.