Here's How to Dress to Stay Warm During Winter Workouts Outside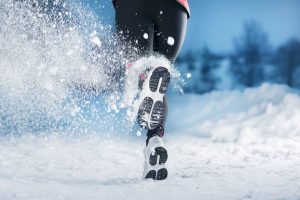 Are you planning on working out in the great outdoors this winter? Good for you! After all, why should you stop yourself from being active just because it's cold outside? Before you get ready to complete your winter workouts outside, though, keep reading. The tips below can help ensure you'll be dressed property to stay warm while you exercise in low temperatures.
It's All About Layers
When it comes to dressing for winter workouts outside, it's all about getting the right layers into place. By doing so, you can effectively keep moisture off the skin, which will help you stay dry and warm. Plus, the right combination of layers can help you maintain your body temperature as well, no matter how cold it gets.
Start with your base layer, which is meant to keep your sweat away from the skin in an effort to maintain dryness and warmth. Choose clothes that are form-fitting and made with materials that are designed to wick moisture away from your body. Cotton wouldn't be a good idea, but polyester would be. Lighter clothing will be better when it comes to keeping you dry, but heavier options will be better at insulating you.
Next is your middle layer, which is meant to provide insulation and warmth. This layer is looser, but it should be able to remain in contact with your base layer. The goal is to choose materials like fleece and polyester, as they can move any moisture from your base layer out towards the last layer to keep you as dry as possible.
The final layer is the outer layer, which will give moisture a chance to escape. It will also repel water and block wind to keep you comfortable. Gore-Tex is a great choice, according to Verywell Fit. Tough materials that are ventilated are also recommended.
Don't Forget the Head and Hands!
Finally, when getting a wardrobe together for winter workouts outside, don't forget to cover your extremities in order to protect them. Warm gloves or mittens are necessary, as is a hat. Fabrics that help block wind are best.
Note: if you end up getting too warm during your workout, you can remove your gloves, hat, or outer layers to maintain optimal comfort.
Now that you have a better understanding of how you can dress to stay warm and dry during winter workouts outside, you can rest assured that you'll be taking steps to keep yourself healthy and strong this season. When spring arrives, you'll be ready to show off the results of your hard work!