Top Summer Foods for Weight Loss that Aren't Salads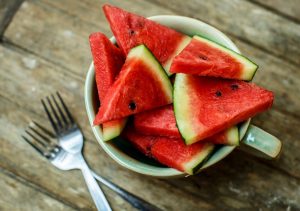 A lot of people think of salads when they come up with a list of summer foods for weight loss. Salads are, after all, low in calories and packed with nutrients, and they are also full of moisture, which is helpful when it comes to keeping your body hydrated during the hot summer months.
That said, if you aren't a big fan of eating salad all the time, what are some of the other great summer foods for weight loss that you should try? We've compiled a helpful list below to get you started. Feel free to use the following foods in a variety of recipes.
Top Summer Foods for Weight Loss
Tomatoes
One of the top summer foods for weight loss is the tomato. Sure, you could use a tomato in your salad, but you could also use this versatile ingredient in a wide range of tasty recipes. It contains plenty of water, along with lycopene and potassium, so it is ideal for helping to maintain hydration in hot weather.
Watermelon
What would summer be without nourishing and hydrating watermelon? Include this fruit in your breakfast, have it for dessert, or even snack on it in between meals if your aim is to lose weight. Plus, like tomatoes, watermelon contains beneficial lycopene, too.
Salsa
Full of flavor, yet low in calories, salsa and tortilla chips make for a great snack or appetizer during the summer. You can also use it in a variety of recipes, as it can provide your body with a boost of nutrients and antioxidants. Plus, it is a good alternative to other dips that would be higher in calories, such as cheese dip and onion dip. Make it fresh right at home with organic ingredients to boost flavor and nutrition.
Portobello Mushrooms
Mushrooms are really good for you, so they are a wonderful addition to any diet that is focused on health and weight loss. Because of its meaty texture, you can choose the portobello mushroom for use in a wide range of recipes, and you can even use it as a substitute for meat (you could, for example, grill a large portobello mushroom as an alternative to beef). This food is low in calories, yet high in fiber, so you can feel guilt-free about adding it to your summer meal plans.
These are just a few of the many summer foods for weight loss that you can try if you want to slim down or maintain your healthy weight this season.