Standing at Work for Weight Loss: What Studies Show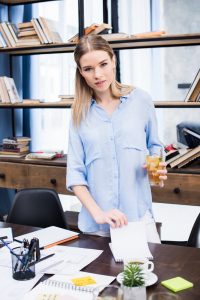 You may have heard quite a bit by now about the dangers of sitting down for too long, and you may have wondered about the adverse effects of sitting at a desk for extended periods of time while working. Well, it turns out that there are some studies that have looked into whether or not standing at work for weight loss really does work.
What Studies Show Regarding Standing at Work for Weight Loss
Burning Some More Calories
A recent study decided to check if standing at work for weight loss really works. Researchers analyzed the data from roughly 50 studies that were related to the topic. Those studies had been completed in the past, and more than 1,000 people were included in those studies, so they were comprehensive and trustworthy.
The prior research worked on measuring the difference between the number of calories that could be burned when you are standing versus the number of calories that you could burn when you are standing. Ultimately, the results proved that standing could burn roughly 0.15 extra calories every minute, on average. Men were able to burn an addition 0.2 calories every minute while they were standing rather than sitting, and that was actually twice as much as what the women were able to burn, which was 0.1 extra calories.
So what does this all mean, though? Well, if you are someone who weighs roughly 140 pounds, if you were to stand for six hours every day rather than sit for that period of time, you would burn about 54 extra calories every day. So, yes, studies have proven that you do burn more calories when you are standing rather than sitting.
But Can You Lose Weight?
Even though you could certainly burn more calories while you are standing rather than sitting, does standing at work for weight loss work? In other words, is weight loss really the end result of burning 0.15 additional calories per minute? Well, researchers came to the conclusion that standing at work might help you prevent weight gain, but it may not necessarily help you actually lose weight.
Now that you have a better understanding of the studies surrounding standing at work for weight loss, you may decide that you are ready to stand up more often. If that is the case, consider getting a desk that allows you to convert from a seated position to a standing position in seconds. Standing desks are fantastic options for those who want to derive the benefits of standing while working, and you may notice that you are able to get in shape more easily once you start using one.