Losing Weight Could Reduce Your Skin Cancer Risk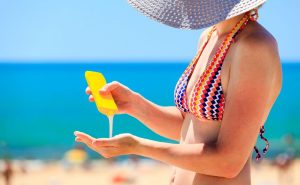 Did you know that losing weight might help reduce skin cancer risk? It turns out that there are many more benefits to weight loss than just looking and feeling great. Continue reading to discover the connection between skin cancer risk and your weight.
Research into Risk Factors
According to Medical News Today, obesity is a risk factor for many different types of cancer, such as liver, colorectal, kidney, pancreatic, and endometrial cancers. However, researchers have also looked into obesity's effects on skin cancer risk, including melanoma risk.
Obesity May Increase the Risk of Melanoma
Previous studies had already determined that obesity could end up boosting your risk of developing melanoma, and obesity may even increase the growth rate of this terrible cancer. However, more recently, researchers wanted to conduct a study that would help them better understand if weight loss could help to bring the skin cancer risk back down.
Reduce Your Skin Cancer Risk by Reducing Your Weight
To get to the answers that they were looking for, researchers examined bariatric surgery outcomes and compared those against the results of individuals who used conventional obesity treatments instead. After analyzing the data, researchers determined that individuals who had opted to undergo bariatric surgery for weight loss actually had a much lower risk of being diagnosed with melanoma in the future.
More specifically, those who underwent the bariatric weight loss surgery had a 61% lower risk of developing melanoma. Plus, they even had a 42% reduction of risk when it came to other forms of skin cancer. In other words, your melanoma risk can be decreased by losing weight, and by going from obese to a healthier weight.
How to Protect Yourself
Even though experts have concluded that there is a link between obesity and skin cancer, they will need to conduct more research in order to discover why this is the case. In the meantime, however, if you are overweight or obese, losing the extra weight could be a step in the right direction if you want to reduce your risk of cancer, including skin cancer.
To protect yourself from skin cancer, eat right, exercise, and consider taking a weight loss supplement to shed the unwanted pounds. Beyond that, take steps to protect your delicate skin from the sun's harsh UV rays by wearing sunscreen, donning a hat and sunglasses, and avoiding spending too much time in the sun.