These Low Calorie Iced-Coffees Make a Delightful Morning Treat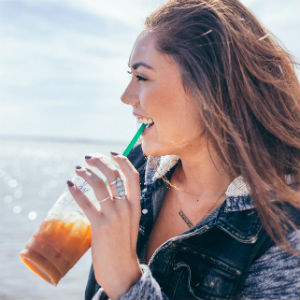 The warmer weather is on its way – and on some days is already here – making us dream of cool beverages to enjoy. While many involve a huge dose of sugar and calories, this isn't always the case. Knowing which low calorie iced-coffees are out there can help you to enjoy your mornings in a hugely refreshing way.
Just make sure you know what you're doing as there's a big difference between high and low calorie iced-coffees. The last thing you'd want to do is to chug down two delicious morning treats that each contain the same caloric kick as a double cheeseburger from your favorite fast food joint.
While the most basic of low calorie iced-coffees means just grabbing something like an Iced Caffè Americano from Starbucks, which typically has around 15 calories, there are other options from which to choose. After all, not everybody likes a black coffee over ice and even among those of us who do, it's nice to have other options now and again.
There are a few tricks you can learn to help you to make sure that even your guiltiest summertime coffee pleasure won't be too damaging to your daily calorie intake. This will mainly have to do with choosing a smaller size, keeping the chocolate or whipped topping away and opting for skim milk. That said, when you're in a rush and would rather simply choose a standard order instead of rhyming off a number of customizations, the following can be very handy to remember this summer:
• Starbucks Grande Iced Skinny Flavored Latte made with sugar-free flavored syrup – These contain about 80 calories, 10 grams of sugar and 0 grams of fat.
• Dunkin' Donuts Medium Iced Hazelnut Coffee with Skim Milk – This contains about 20 calories with only 2 grams of sugar and 0 grams of fat.
• McDonald's McCafé Medium Iced Nonfat Latte with Sugar-Free Vanilla Syrup – This one has 50 calories, 6 grams of sugars and 0 grams of fat.
• Burger King Seattle's Best Medium Cold-brew Vanilla Latte with Skim Milk – This option has 90 calories, 0 fats but a huge 26 grams of sugar.
• Panera Large Iced Cappuccino with Skim Milk – This drink has around 80 calories, with 11 grams of sugar and 0 grams of fat.
All these options have only a fraction of the calories of some of their higher cal counterparts within the same shops.