10 Dietitian Approved Frozen Food Entrees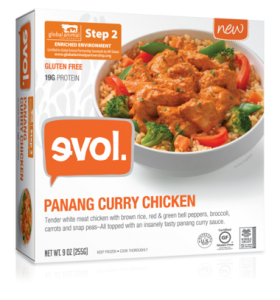 Frozen food entrees have a bad reputation, as they are often seen as unhealthy processed foods that are high in sodium, fat, and calories. But there are many health food companies that have branched out into the frozen food arena, so you have more choices than ever before when it comes to frozen food entrees that are actually dietitian approved.
Check out the list of 10 TV dinners below, as these are great choices that you can enjoy when you are too busy to cook from scratch.
1. Amy's Kitchen Light and Lean Quinoa and Black Bean Bowl with Butternut Squash and Chard
A serving has 10 grams of protein and 0.5 grams of saturated fat, along with 11 grams of fiber, 240 calories, and 440 mg of sodium.
2. Luvo Hawaiian Un-Fried Rice Bowl with Forbidden Rice
This meal contains 10 grams of protein, 7 grams of fiber, 42 grams of whole grains, and a cup of fruits and veggies. Wow!
3. Amy's Kitchen Single Serve Margherita Pizza
Who says frozen pizza has to be terrible for you? This option has 400 calories, 5 grams of saturated fat, 4 grams of sugar, and 16 grams of protein in the entire pie.
4. Kashi Mayan Harvest Bake
This meal has 340 calories, 9 grams of protein, 380 mg of sodium, 8 grams of fiber, and just 2 grams of saturated fat.
5. Saffron Road Chana Saag
A tasty Indian meal that contains 420 calories, 12 grams of protein, 8 grams of fiber, and 1.5 grams of saturated fat.
6. Cedar Lane Eggplant Parmesan
This meal features eggplant and veggies, along with tomato sauce and cheese. It contains 5 grams of saturated fat, 5 grams of fiber, 13 grams of protein, and 280 calories.
7. Lean Cuisine Pomegranate Chicken
This frozen meal has just 180 calories, along with 17 grams of protein.
8. Blake's Meatloaf Dinner Casserole
This is a frozen meal that contains 9 grams of saturated fat and 310 calories, along with 3 grams of fiber, 350 mg of sodium, and 11 grams of protein.
9. Red's Organic Bean and Rice Burrito
Try out this frozen meal when you are in the mood for some healthy Mexican food that is fast and easy to prepare. It has 7 grams of fiber, 9 grams of protein, and just 270 calories.
10. EVOL Panang Curry Chicken
This frozen entrée contains just 280 calories, 19 grams of protein, and 34 grams of carbs.