5 Best Workout Bras for Maximum Comfort and Support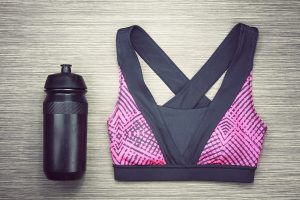 Trying to track down the best workout bras can sometimes feel like you're looking for a needle in not one but several haystacks. For something that performs such a basic function, these small articles of clothing are surprisingly difficult to find.
Certainly, you can find a sports bra at many clothing retailers. However, they're not all created equal. Some lack support. Others are painfully tight. Some fit oddly. Others cost a fortune. Some trap moisture while others rub in places they really shouldn't. Not to mention the way they actually look when you wear them! With all that to consider, is it really possible to find the best workout bras for you?
Yes! The truth is that you can find the best workout bras for your unique fit, exercising needs and budget. Get started by understanding that no single sports bra is right for every woman. Just because it's perfect for your sister or best friend, it doesn't mean it will be right for you. Next, check out some of these top sellers. Try them each on to see how they fit both when you're standing there and looking in the mirror and when you bounce around a bit.
1. C9 Strappy Front Bra (Low Impact)
For only about $20 at Target, this is great for women with an A or B cup size and who want that barely-there feeling. If you're larger than a B, you'll likely need one with greater support, but this is perfect when support is only a moderate priority.
2. GapFit Strappy Bra (Medium Impact)
This bra features strong back straps that stay in place. That said, it's very easy to take on and off. Anyone who has ever wondered if they'd be trapped forever in their sports bra will know what a great feature that is. This one's available at the Gap for about $43.
3. Brooks Fiona (Medium Impact)
The straps on this model are not only wide (so they won't dig into your shoulders) but they're also adjustable, as is the band. This is a sturdy yet attractive sports bra that you can pick up at Zappo's for about $50.
4. Lucy High Impact Workout Bra (High Impact)
This sports bra manages to look great and keep the girls locked into place, even among women with larger cup sizes. For about $55, it can be the perfect option regardless of whether you're mastering the downward dog in yoga class or whether you're sweating through your latest boot camp challenge.
5. Wacoal Sport Underwire (High Impact)
Despite its rather old fashioned appearance, this model rarely fails to win over women with larger cup sizes such as DD or higher. The back clasp makes it easy to get in and out of without a battle and with a $65 price tag on Amazon, it is more than competitive.