When Are Salads Not the Best Diet Food?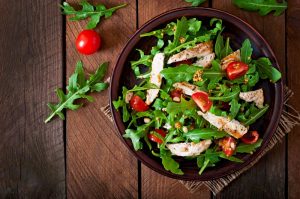 When you go on a diet to lose weight, do you tend to replace some of your meals with salads, thinking that salad is the best diet food? Think again. Even though salads can be a great way to get your daily dose of nutritious leafy greens and other must-have veggies, there are instances when salads are not the best food for your diet after all. We explain it all below, and give you tips on how to make the best diet food with the help of a salad.
Eating Salads at Restaurants
Eating a salad at a restaurant might seem like a good idea at first but ask them for the nutrition facts on the dish before you order it. What you might find is that, what appears like a healthy meal option is actually loaded with fat and calories. For example, according WebMD, if you order Chili's chicken Caesar salad, which has everything from chicken and cheese, to croutons and dressing, you will end up eating a whopping 76 grams of fat and 1,010 calories. Whoa!
Dress Your Salad with Healthy Ingredients
In order for a salad to really be considered the best diet food, you need to dress it up with healthy ingredients that add flavor. If you end up adding, for example, a lot of creamy dressing to your salad, along with meat, wonton strips, bacon, cheese, and other high-calorie, high-fat ingredients, you're basically undoing the benefits of the salad.
Veggies are packed with nutrients, water, and fiber, yet they are low in calories, so if you are going to eat a salad, doing it right can help you achieve your weight loss goals. How can you go about preparing a tasty salad that won't undo your weight loss efforts?
Well, you could start with a bowl of mixed greens, rather than just iceberg lettuce. Then, add in your favorite veggies, such as strips of bell peppers—the more color, the better. You can also add beans or chickpeas, fruits like berries and apples, and a light vinaigrette or a mix of balsamic vinegar and olive oil. For some healthy fats, you can even add a bit of avocado to the top of your salad, or you can opt to add some nuts instead.
To make your salad the best diet food, you don't have to work hard. You just have to be smarter about what you put on the salad, and what ingredients you use to make your salad a filling and tasty appetizer, meal, or snack.