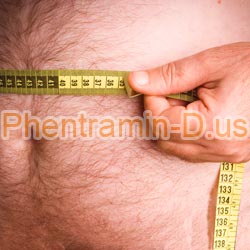 Where you carry extra pounds on your body may determine some health risks. While all extra weight poses potential health problems, some types of fat in different places on the body can pose bigger and more serious problems.
Did you know that there is an association between abdominal fat and stroke risk? It's true! According to WebMD, researchers have discovered a link between belly fat and stroke risk. Basically, people who carry most of their extra weight around their waist and in the abdominal area are more likely to have a life ending or life changing stroke? This means losing weight is even more important for such individuals, and should be a priority for the sake of a longer life.
To learn even more about the association between abdominal fat and stroke risk, continue reading. Perhaps you need to uncover this information for yourself or for someone you love so that you can get back on track towards better health with the help of a slim-down strategy.
The Basics Behind the Association Between Abdominal Fat and Stroke Risk
Those that have extra weight in the stomach and have a family history of stroke should pay close attention to their weight loss goals. Without taking the time to lose as much as they can, they are putting themselves at high risk to have a stroke.
These are usually something that you associate with old age, but that is not always the case. People can have strokes in there forties, thirties, and even twenties if they are in poor health.
If this is you, do what you can to lose weight. Do not forget to add motion to your routine, as exercise can not only help you lose weight, it can help lower your chances for stroke as well.
Looking at the Association Between Abdominal Fat and Stroke Risk from a BMI Standpoint
Some use the BMI (body mass index) to determine if someone is obese or overweight, and this also can indicate risk for stroke and heart attack. However, recent findings have suggested that the ratio of the stomach fat to the rest of the body is a more accurate indication of stroke risk.
That means someone with an apple figure – rather than a pear shape – is at a much higher risk to have a stroke due to excess body fat. BMI, along with risk factors like smoking and inactivity, can tell if someone is at risk, but the waistline is a better indication to go by.
The Risk of Other Cardiovascular Problems Also Increases
Not only does a larger waist line signal higher stroke risk, it also signals higher cardiovascular health problems. This could include all types of heart disease. Those who are considered obese or overweight (up to 66% if the US population at this point) should pay attention to waist size and dieting.
No matter what your risk, being overweight is not good for the body. Losing just ten percent of the body weight will greatly improve health and lower the chances of having a deadly stroke or heart attack in the future. Add another ten percent and your odds are even better.
How Can You Reduce Abdominal Fat? 
Now that you know about the association between abdominal fat and stroke risk, you should be taking action to reduce the belly fat that you have been carrying. Luckily, there are several strategies that you can implement into your daily life, so this is something that you can definitely accomplish if you just put your mind to it, and if you put in consistent effort.
Here are some of the ways that you can reduce belly fat:
Start incorporating healthier, low-calorie, low-fat, and low-sugar foods into your diet. Adding more plants (fruits, veggies, whole grains, legumes, beans, etc.), while reducing refined carbs, is definitely a good way to go, as meat and dairy are high in fat and calories. And, foods that are rich in soluble fiber, in particular, can be helpful in reducing belly fat as well.
Reduce your intake of alcohol. If you drink often, it might be contributing to your belly fat, and making it harder to get rid of it.
Did you know that your stress level might be contributing to the storage of fat in your belly area? Therefore, it would be a wise move to reduce your stress level in smart ways, such as through exercise, meditation, and doing things that you love and find relaxing.
When exercising, do a combination of cardio and strength training, rather than only sticking with one or the other all the time. The cardio will work wonders at helping you blast through calories and fat while getting your sweat on. Then, the strength training will work by increasing your muscle mass throughout your body. With more muscles, you won't only be stronger; you will also help boost your resting metabolic rate! That, in turn, can help you get rid of any excess fat that you are carrying, including the fat in your belly.
Side note: You might want to consult with your physician for additional tips and tricks that you can use to reduce your belly fat successfully, and in an efficient, yet safe, manner. He or she can guide you in the right direction, based on your unique medical history, current medical state, and weight loss needs. Whether that means undergoing a weight loss procedure, following a diet and exercise routine, or incorporating the use of diet pills, just rest assured that there is likely something that you can do to get your weight under control.
Armed with the knowledge that there is an association between abdominal fat and stroke risk, you can now take additional steps towards keeping your body healthy, lean, and strong for many years to come.